Kiana Ledé - Ur Best Friend (feat. Kehlani) (Official Video)
музыкальные видеоклипы / иностранные видеоклипы  30 июля 2021  99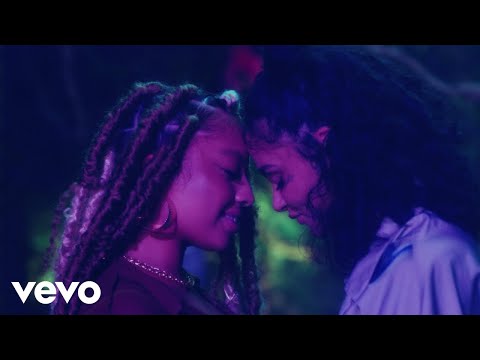 Listen to "Ur Best Friend" feat. Kehlani at
https://KianaLede.lnk.to/UrBestFriend
Visit KianaLede.com for more.
Subscribe for more official content from Kiana:
https://KianaLede.lnk.to/subscribeYD
Exclusive Merch:
https://shop.kianalede.com/
Follow Kiana Ledé:
Instagram:
https://www.instagram.com/kianalede
TikTok:
https://www.tiktok.com/
@kianalede
Facebook:
https://www.facebook.com/KianaLede
Twitter:
https://twitter.com/KianaLede
Director: Kehlani @kehlani
Production Co: Honeyshot @honeyshotproductions
Co-Director: Gabriel Phoenix
Creative Director: Brianna Alysse @brialysse
Executive Producer: Shadeh Smith @shadehsmith
Producer: David Wept @davidwept
Production Manager: Farah Idrees @idr_farah
1st AD: Jonas Morales @makingmovesmorales
2nd AD: Damon Limbrick @big_zo_the_monster
Director of Photography: Josh Hill @joshhill_dp
Steadicam Operator: Emaad Elhardouzi @emaadelhardouzi
1st AC: Celeste Barbosa @celestebarbosuh
2nd AC: Sahnah Dhrif @sahnahdhrif
Gaffer: Scott Khuu @guccigaffer
Key Grip: Grant Gilligan @grantgilligan
BBE: Landon Brands @landonmoon
BBG: Ricky Irizarry
Electric: Corey Milikin @coreymillikin
Grip: Eric Fickenwirth
Production Designer: Alex Lepkowski @alexlepkowski
Art Director: JJAZZ @jjaahz_
Leadman: Iggy Soliven @ouget
Editor: Gabriel Phoenix @gc_phoenix
Colorist Joseph Bickell @josephbickell
Color Company @company3
VFX: @frame48
Casting Director/Partygoers: Tori White @toriwhyt
Lead Male: Vic Mensa @vicmensa
Kiana MUA: Janelle Faretra
Kiana Hairstylist: Efemeh Files
Kiana Stylist: Ib Abel Nasser
Kehlani MUA: Pircilla Pae @pircillapae
Kehlani Hairstylist: Preston Wada @prestonwada
Kehlani Stylist: Aleali May @alealimay
Sound Operator: Destiny Farrant @soundgirlsayswhat
CCO: Lezé deKlerk
BTS: Sharon Marrero
PA's: Jordan Espinoza, Peace Kumeh, Matthew Mulugeta
#KianaLede #Kehlani #UrBestFriend
Music video by Kiana Ledé, Kehlani performing Ur Best Friend. The Heavy Group / Republic Records; © 2021 Republic Records, a division of UMG Recordings, Inc.
http://vevo.ly/qEqynC
Источник: Новые видео – Музыка - YouTube